Venue:
When:
City:
Address:
SEAFAIR MEGA YACHT
Sat Oct 31 2015 5:30PM
Miami
100 Chopin Plaza, South Dock
Type: General Admission, Price:$79.00
Type: Couples Ticket, Price:$129.00
Type: Entourage of Five, Price:$295.00
Type: Admirals VIP Ticket, Price:$125.00
Type: Admirals VIP Couples Ticket, Price:$229.00
Type: Nightclub Table for 4, Price:$750.00
Type: Nightclub Table for 6, Price:$1000.00
Type: Nightclub Table for 8, Price:$1250.00
Type: Admirals Club VIP Table for 4, Price:$1500.00
Type: Admirals Club VIP Table for 8 | Best View, Price:$2750.00
Type: Captians Platinum Bow Table for 12 | Grand View, Price:$3000.00
Type: Admirals VIP Corner Suite | Amazing View, Price:$4500.00
Type: Admirals SKY Deck VIP Booth for 8 | Perfect View, Price:$3750.00
Type: General Admission – Promo, Price:$75.00
South Beach Nightlife Presents…
The White Pearl
Pier Pressure™ Miami
---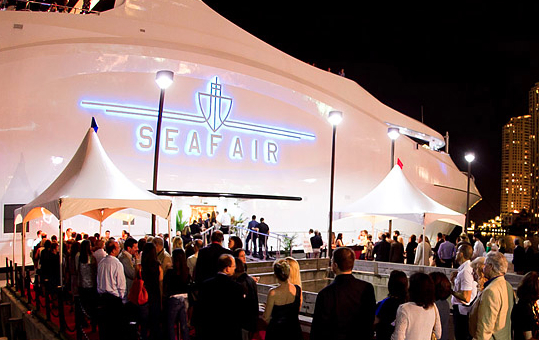 ---
There is not a better way to spend your Halloween in Miami and celebrate your freedom on this 4 Story, 35 Million Dollar Mega Yacht featuring a 2 Level Nightclub, a 3rd Level Top Tier VIP Admiral's Club, and spacious SKY Deck to give you the best views of the Miami Downtown Skyline
Highlights:
-

3

Hour Cruise of Miami Harbor & South Beach
-

4

Decks of multi-level Entertainment
- * Complimentary Appetizers
-

2

Level Nightclub & Dancefloor
-

2

Music Formats Played throught the Ship
-

4

Top Miami DJs Playing the Hits
- Multiple Areas to find the perfect Atmosphere
- Amazing VIP Admiral's VIP Lounge with Indoor Views
- Admiral's VIP Deck
- Spectacular Bottle Service & Reserved Seating Options
- Group Rates Avail Online
- Complimentary Party Favors
- And more….
This is absolutely the #1 Halloween Party to experience the ultimate VIP Nightlife Experience in Miami. There is not a more luxiurious yacht in Miami so be prepared to have the absolute time of your life!
Check-In Begins: 8:30 PM
VIP Boarding: 8:45
General Boarding: 9:00 PM
Cruise – 9:45 PM – 12:45 AM
Disembark: 1:00 AM
All Sales are final. The boat may not leave the dock due to too many ships in the area. Event will take place Rain or Shine. There may be abstructed views of concert due to media or stagin. No refunds or exchanges.Prices subject to change while supplies last.
Posted By Stefano Bouzari