Venue:
When:
City:
Address:
Silver Street
Fri Oct 31 2014 10:00PM
Houston
2000 Edwards St
Type: General Admission, Price:$100.00
Type: Pre Sale Bottle Service, Price:$1500.00
Type: VIP Bottle Service, Price:$2500.00
HALLOWEEN PARTY 2014
SAINTS & SINNERS – HOUSTON'S PREMIER ADULT HALLOWEEN PARTY EVENT
---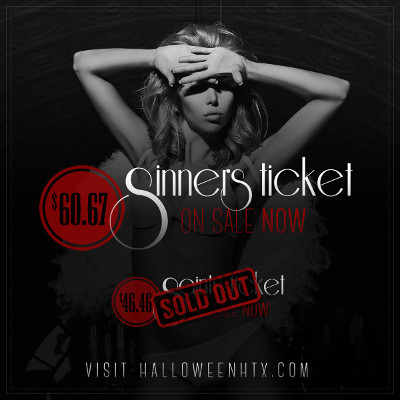 What else can you ask for from a Halloween party?
Sexy girls
Hot guys
All you can drink – OPEN BAR!!!
$1500 in cash costume prizes
Awsome DJs
The best party band in Houston
---
Select Entertainment & Events Presents: Saints & Sinners, A night full of music and bringing out your inner desires.
Houston's sexiest Halloween party on October 31, 2014. The celebration will be located at 2000 Edwards Street, better known as Silver Street Warehouse. Sound familiar? Thats because Silver Street Warehouse was also the site of the H-Town Countdown, a New Years Eve party that brought in over 1,000 attendees. Saints & Sinners brings Houstonians an event where their inner "sexy" can come alive with a haunted house entrance, an open bar, food, and live music by some of Houstons best local acts.
Silver Street is a 22,000 Sq. foot building that can accommodate up to 3,000 people and has the abilities to park over 100 cars. Located off of Washington and Sawyer, it is located in the heart of Houston. This perfect party house isnt very far from downtown and is located right off 1-10 for easy access.
Saints & Sinners will be from 10pm to 4am to celebrate one of the hottest nights of the year. Starting the night off right will be IDT Band, one of Houston hottest cover bands. DJ Bizonee will follow, mixing up the hottest hits of today music to hype our night owls up for our headlining act. Considered one the best dance music DJs this town has to offer, Made Monster– comprised of Houston's very own DJ Red– will kick off the late night spinning.
Guest ticket prices will allow access to a full open bar from start to finish! Of course we will have your favorites, but we will also feature, Jagermeister, Z Tequila and a wide variety of beer from Silver Eagle. We could not forget your favorite flavors from our friends at Red Bull, and if you take full advantage of our open bar,Uber Houston will be nearby!
IDT Band
www.idtband.com
https://soundcloud.com/idtband
DJ Bizonee
http://djbizonee.com/
https://soundcloud.com/djbizonee
Made Monster
www.mademonster.com
https://soundcloud.com/mademonster
Posted By Stefano Bouzari