Venue:
When:
City:
Address:
Philadelphia Pubcrawl
Thu Oct 30 2014 5:00PM
Philadelphia
Various Venues
Type: 3 Day All Access Pass Philadelphia, Price:$20.00
Type: Happy Hour Halloween Pubcrawl Philadelphia, Price:$7.00
Important:
Summer's too short, but we can always look forward to fall in Philly. Some say it's the best time of the year – but that always depends on the weather. This year, no matter what the weather may bring, we've got a treat of an event that you can indulge in. A lot of folks tend to treat Halloween like they do New Year's Eve, meaning they make last minute decisions to attend events, and unfortunately this doesn't pan out well for the most part. Rather than going through that this year, how about being part of the Happy Hour Halloween PubCrawl? That's right, we're giving you a chance to enjoy the bar scene in Philly like you never have before. Thousands of people will be dressed up and celebrating on this night, roaming the streets in search of the next watering hole that's a part of the event. Presented by the producer's of the world's largest pub crawl, PubCrawls will be hooking you up through this event with access to the best bars and drink specials in town! Get your tickets while you still can, because this is definitely an experience that you won't want to miss out on.
3 Day All Access Pass Philadelphia includes:
General Admission access for 1 to the PubCrawls Halloween PubCrawl on all 3 days.
Access to ALL participating venues.
REGISTRATION VENUE: Infusion Lounge 16 South 2nd St.
REGISTRATION TIMES:
Thurs 10/30 [5pm 12am]
Fri 10/31 [5pm 12am]
Sat 11/01 [3pm- 12am]
Happy Hour Halloween Pubcrawl Philadelphia includes:
General Admission access for 1 to the PubCrawls Happy Hour Halloween PubCrawl on Thursday 10/30
Access to all participating venues
REGISTRATION VENUE: Infusion Lounge 16 South 2nd St.
REGISTRATION TIMES: Thurs 10/30 [5pm - 12am]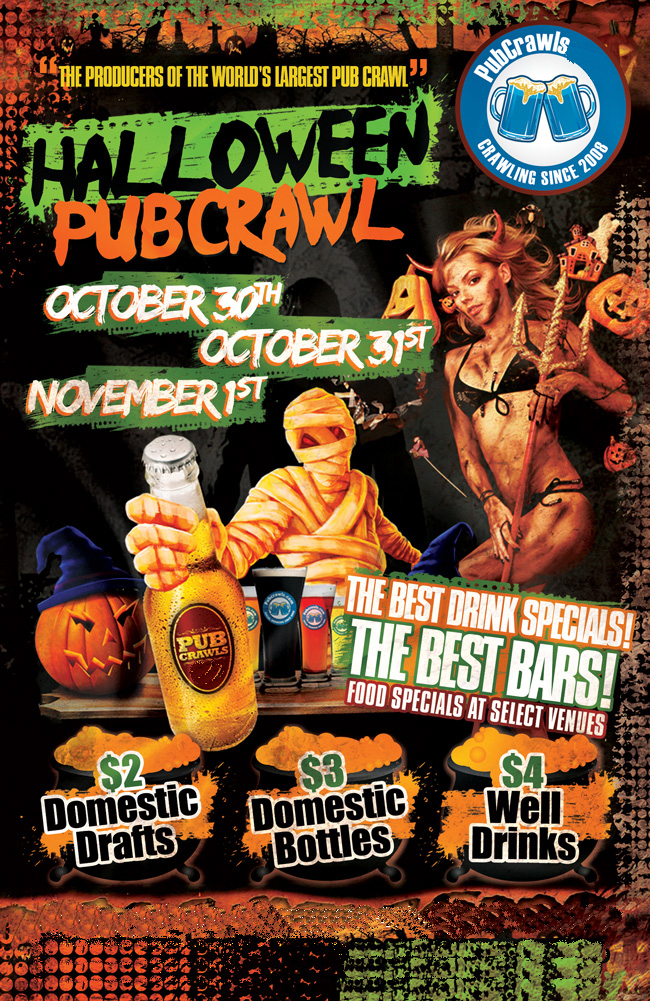 Posted By Stefano Bouzari