Venue:
When:
City:
Address:
Philadelphia Pubcrawl
Sat Nov 1 2014 3:00PM
Philadelphia
Various Venues
Type: 3 Day All Access Pass Philadelphia, Price:$20.00
Type: Hangover Halloween Pubcrawl Philadelphia, Price:$7.00
Important:
Have plans for Halloween yet? Well get ready to book them. Rather than waiting until the last minute to book a ticket to a party, or decide to stay cooped up in one bar for hours on end with your friends, there's no better event to attend this year in Philadelphia than The Hangover Halloween PubCrawl. It's a fitting name because that's exactly how you're going to feel when you experience what the bar scene in Philly is all about. The leaders of pub crawls around the world, PubCrawls, is ready to host you and your friends, as well as the rest of the city, as they've enlisted the help of the top watering holes in the city to open their doors and host killer drink specials throughout the event. Have you planned a pub crawl with your friends in the past? If you haven't, it isn't the easiest thing in the world. Rather than having to go through the tedious task of doing so, we're doing all of the work for you! Just get your ticket, decide on what costume you're going to wear this year, and get ready for the event of a lifetime.
3 Day All Access Pass Philadelphia includes:
General Admission access for 1 to the PubCrawls Halloween PubCrawl on all 3 days.
Access to ALL participating venues.
REGISTRATION VENUE: Infusion Lounge 16 South 2nd St.
REGISTRATION TIMES:
Thurs 10/30 [5pm 12am]
Fri 10/31 [5pm 12am]
Sat 11/01 [3pm- 12am]
Hangover Halloween Pubcrawl Philadelphia includes:
General Admission access for 1 to the PubCrawls Hangover Halloween PubCrawl on Saturday 11/01
Access to all participating venues
REGISTRATION VENUE: Infusion Lounge 16 South 2nd St.
REGISTRATION TIMES: Sat 11/01 [3pm - 12am]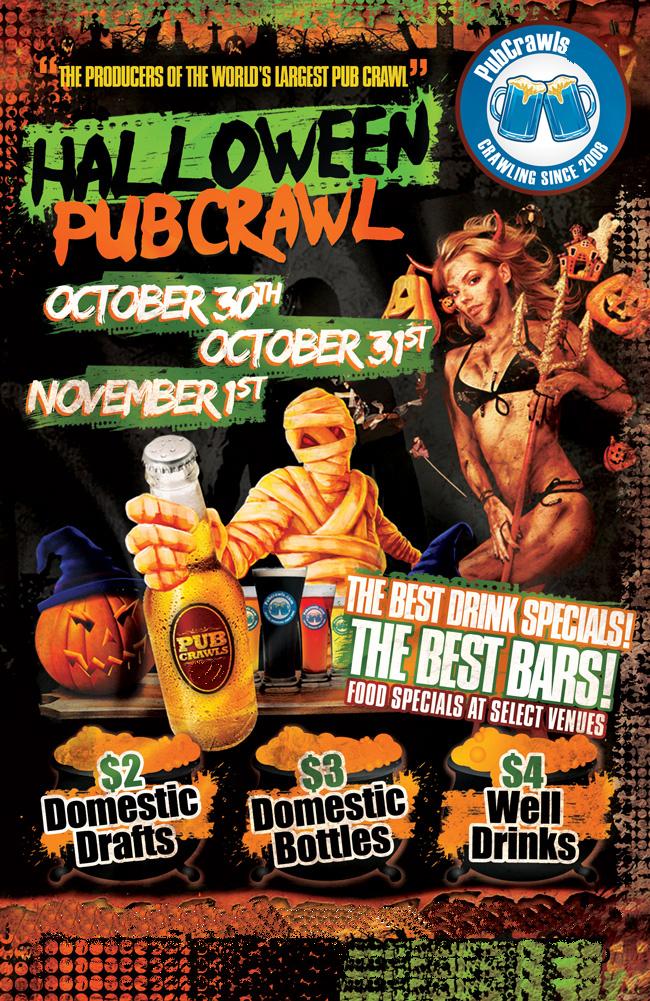 Posted By Stefano Bouzari