Venue:
When:
City:
Address:
ORIGIN BOUTIQUE NIGHTCLUB
Fri Oct 30 2015 9:30PM
San Francsico
1538 Fillmore St
Type: Early Bird, Price:$10.00
Type: General Discount Admission, Price:$15.00
Type: General Admission, Price:$20.00
PAREA PRPDUCTIONS X THE ORIGIN present
WASTELAND
Friday October 30, 2015 l 9:30pm-2am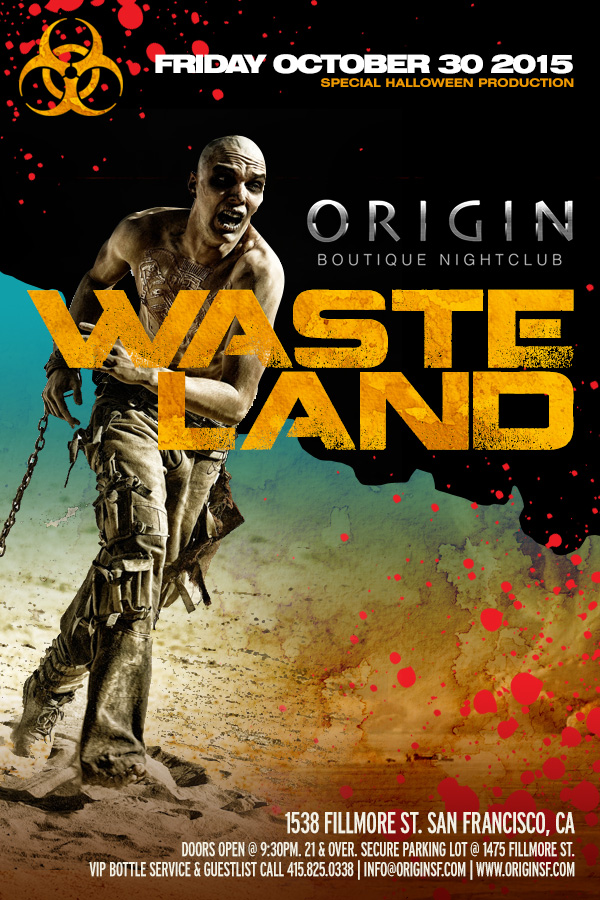 SPECIAL EDITION #PAREASF X #OMGfridays HALLOWEEN 2015 PARTY
The end of the world is near and San Francisco is celebrating its last hours of existence. Join us at our WASTELAND, but beware as the creatures of the night will be ready for a scare.
APOCALYPTIC VIP BOTTLE SERVICE SPECIALS CONTACT @ pareasf@gmail.com / TEXT: 408-832-4968
Origin – The Boutique Nightclub to experience our extraordinary production! We take our nights very seriously. Expect confetti explosions and over-the-top special effects when the beat drops! Theres nothing like sipping on tasty cocktails and dancing the night away on an energetic dance floor, surrounded by other fabulous people. Find your way to Origins first-class nightclub production this Saturday to experience the ultimate nightlife experience.
Parking is available across the street at 1475 Fillmore Street.
FOLLOW US for more great SF parties!
www.facebook.com/PAREASF
Twitter: @PAREASF
IG: #PAREASF

Posted By Stefano Bouzari